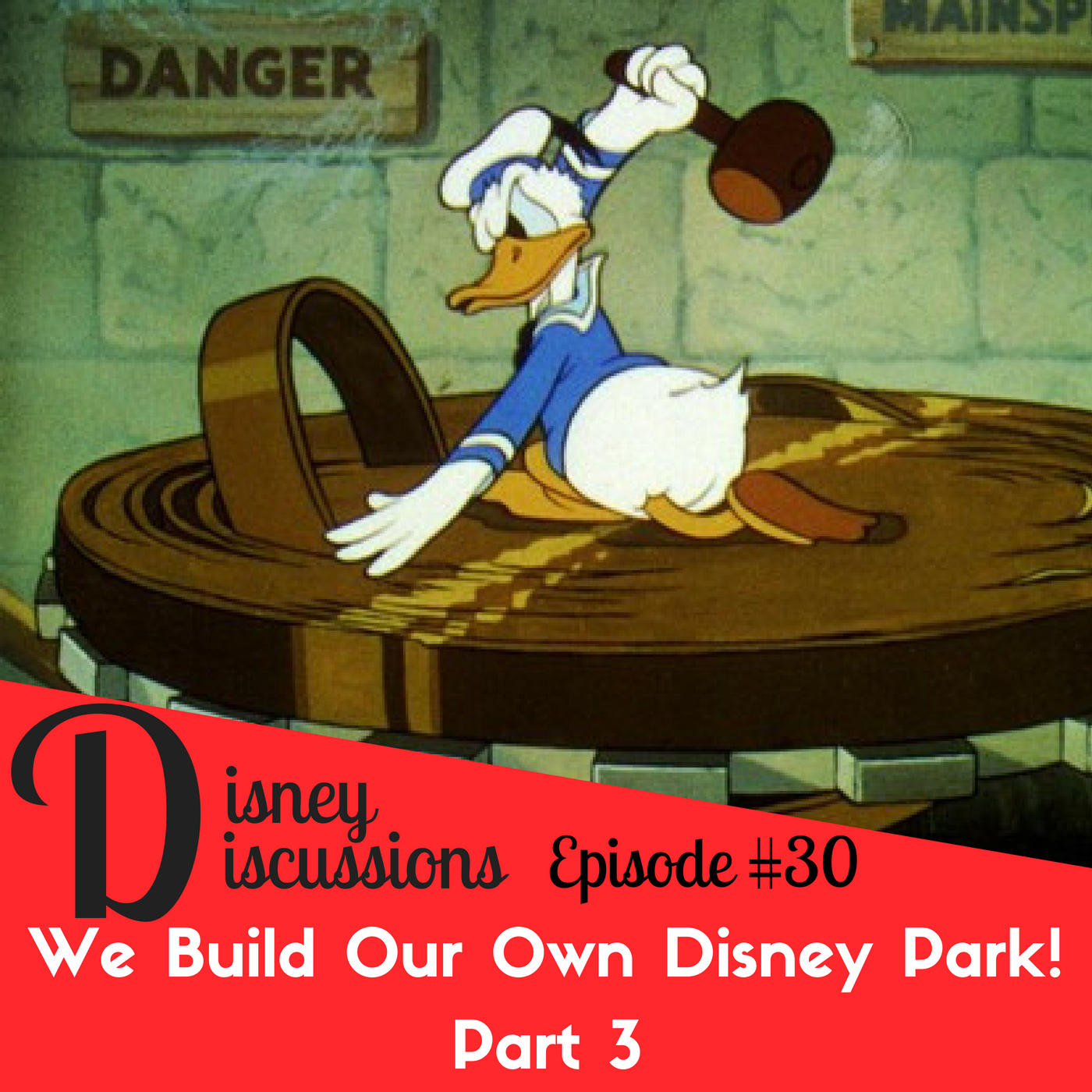 Tony the Disney Dad and his two boys discuss Part 3 of Build Our Own Disney Park, Toy Story Land Opens, Frozen 2 news, and more on episode 30 of Disney Discussions.
Listen to our podcast:
WWW | YouTube | Apple Podcasts | Spotify | Stitcher | Google Music | Subscribe on Android
00:12 Introductions - Favorite Muppet Character
00:41 Welcome!
01:05 Sorry we've been away :(
New podcast episodes coming about Solo, Incredibles 2, and AntMan and the Wasp
03:03 News
Disney Media News:
03:21 Star Wars Resistance animated series character details revealed - Source
04:50 Disney Teases Shows 'The Rocketeer' and 'The Owl House' Coming in 2019 - Source
07:00 Animator Celebrates 65th Anniversary with The Walt Disney Company - Source
08:02 Christopher Robin to Feature 3 New Songs by Richard Sherman - Source
08:41 Fox Has Accepted an Improved Bid from Disney, Dealing a Blow to Comcast - Source
10:05 Disney has Filed a Patent for a "Magic Surface" that can Become Transparent when Triggered - Source
11:22 Lucasfilm Denies That Standalone Star Wars Films Were Put on Hold - Source
12:03 Queen Iduna To Have A Pivotal Role In Frozen 2 - Source
12:50 Disney Parks Play App Available Now! - Source
14:04 Disney Imagineering has created autonomous robot stunt doubles - Source
16:10 'Indiana Jones 5' Will Miss 2020 Release Date - Source
16:50 RUMOR: Marvel Moving Ahead on "Black Widow" Solo Film; Director Shortlist Revealed - Source
17:57 Disneyland News
18:06 Inside Out Attraction Debuting at Pixar Pier in 2019 - Source
18:48 Incredicoaster launches with Super-speed, new "Incredibles" animation in Pixar Pier at Disneyland Resort - Source
21:19 Walt Disney World News:
21:24 The Incredibles take over the Walt Disney World Monorail system as part of Incredible Summer at Walt Disney World Resort - Source
22:19 Disney Patents a Multiplane Screen Which Could Be Used for Star Wars Hotel Windows - Source
23:46 Get Bus Times Directly On Your Phone with the Newly Redesigned My Disney Experience App for iOS and Android - Source
24:39 New Counter Service Location Coming to Planet Hollywood Observatory Called "Chicken Guy" - Source
25:50 Disney Announces 'Ultimate Disney Fall into Magic Package' with Exclusive Fall Experiences - Source
27:49 New Spooky Experiences Coming to Mickey's Not-So-Scary Halloween Party at Walt Disney World Resort - Source
29:54 Last Traces of Duffy The Disney Bear Being Removed From Epcot as Kidcot Changes Theme - Source
30:30 'Magical Holidays Package' resort discount now available to book - Source
31:17 First Disney Skyliner Gondola Car Arrives at Walt Disney World - Source
32:02 Toy Story Land Is Here! 5 Hidden Gems at Disney's Awww-Inspiring New Destination - Source
34:21 Disney Has Created a Technology to Create Force Ghosts and Holograms for Star Wars: Galaxy's Edge - Source
35:41 Lightning McQueen's Racing Academy to Debut at Disney's Hollywood Studios in 2019 - Source
36:36 New Concept Art Released for Mickey and Minnie's Runaway Railway at Disney's Hollywood Studios - Source
37:40 Stroller Parking Test Ending at Animal Kingdom - Source
38:00 Star Wars Hotel Layout and Connections to Disney's Hollywood Studios Revealed - Source
38:38 New Remodeled World of Disney Store Opens at Disney Springs - Source
39:13 Construction Begins on Epcot's Future Space Restaurant - Source
39:26 Disney Magical Express is Getting New Motor-Coaches with a Modernized Look - Source
40:24 Main Topic - Part 3 of us building our own Disney Park
41:25 Character meet and greets
45:00 Rides
47:22 Store
48:06 Anything else
52:36 Disney Media Pick of the Week:
Brought to you by mickey chats.com
A magical place to Chat all things Disney.
Disney DNA Podcast - http://disneydnapodcast.com/
53:33 Question of the week:
Last week's answers to the question of the week:
You're building your dream Disney Park. What thrill ride, 2 snacks, 2 shows & parade will you pick?
56:16 This week's question:
What 3 rides, Character Meet & Greet, and store would you have in your Disney park?
58:20 New Logo coming!!
59:17 Goodbye
1:00:23 Bloopers
Help Support our podcast:
WWW: http://support.disneydiscussions.com
Amazon: http://amazon.disneydiscussions.com
Patreon: https://www.patreon.com/bePatron?u=61265
Listen to our podcast:
WWW | YouTube | Apple Podcasts | Spotify | Stitcher | Google Music | Subscribe on Android
Here's all the social sites where you can follow us:
Facebook | Twitter | Instagram
For feedback please email podcast@disneydiscussions.com