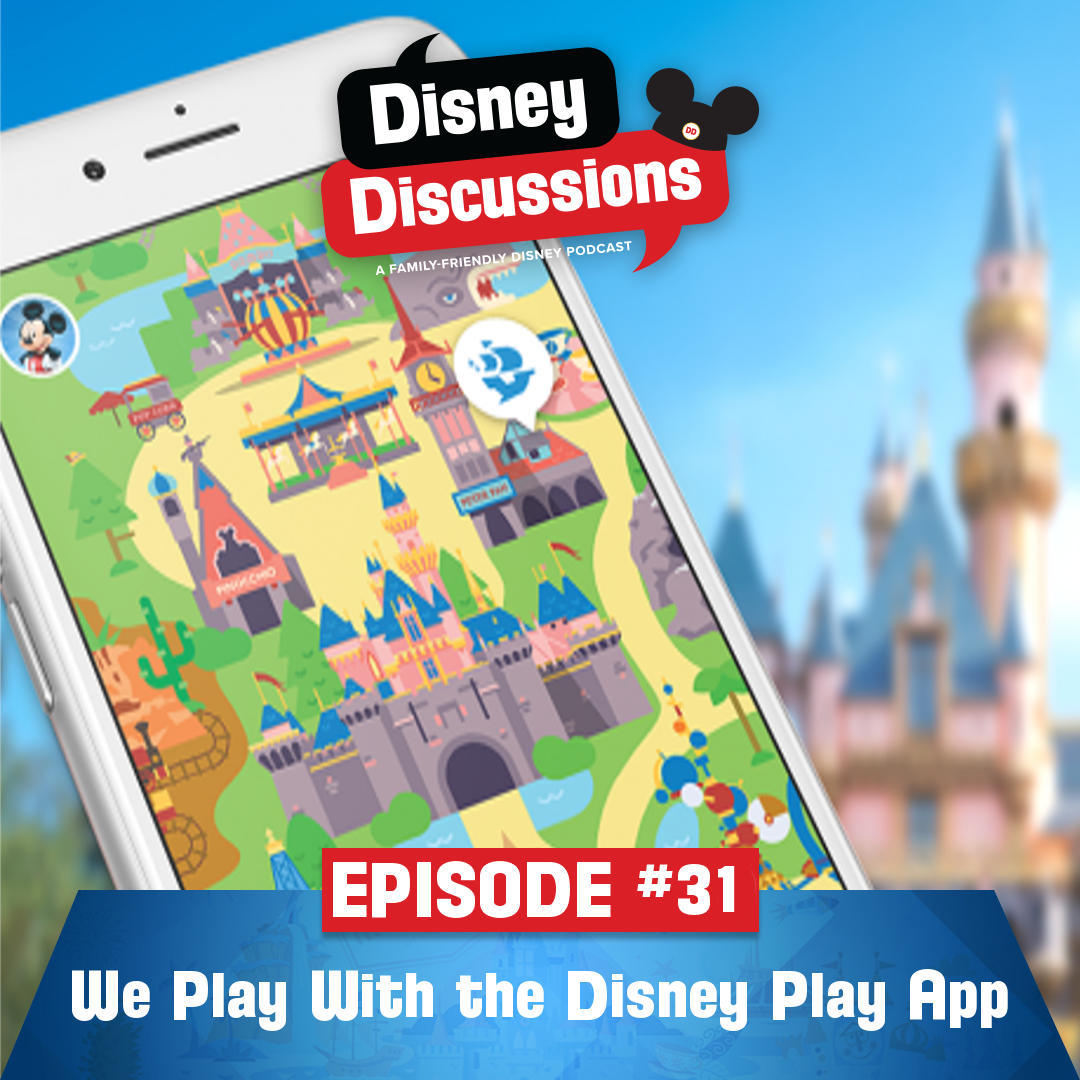 We play with the new Disney Play App, discuss Star Wars Clone Wars coming back, Disneyland's Black Friday, and more on episode 31 of Disney Discussions.
Listen to our podcast:
WWW | YouTube | Apple Podcasts | Spotify | Stitcher | Google Podcasts | Subscribe on Android
00:13 Introductions - Favorite Animated Disney Villain Character
00:52 Welcome!
01:53 Big Announcement, We have a New Logo!

We also have merchandise with this great new logo.
Check out our store, http://shop.disneydiscussions.com
Use Coupon code ALOHA at checkout for 30% off. from 7/24 - 7/30 at midnight.
05:48 News
Disney Media News:
05:57 Billy Dee Williams Will Return As Lando Calrissian In "Star Wars: Episode IX" - Source
06:50 Avengers: InfinityWar on Digital, MoviesAnywhere, and 4K UHD July 31 and Blu-ray August 14 - Source
07:28 Disney Announces "Jungle Cruise" and "Maleficent 2" Release Dates and Other Schedule Changes - Source
09:04 Solo: A Star Wars Story Home Release Date Reportedly Revealed - Source
09:25 Evan Rachel Wood And Sterling K. Brown Are Set To Join The Cast Of "Frozen 2" - Source
10:11 Disney is bringing back Star Wars: The Clone Wars - Source
10:56 Disney wins: Comcast drops its bid for 21st Century Fox - Source
12:20 Disneyland News
12:29 Technical Glitch Affects Disney Parks on Both Coasts- Source
13:34 Disneyland Just Experienced the Hottest Day at a Disney Park — Ever - Source
14:06 Disneyland to Celebrate 63 Years with Pre-Parade Character Cavalcade - Source
15:34 Rumor that Wreck-It Ralph VR Attraction Coming This Fall to Walt Disney World, Disneyland - Source
16:45 Closing Date Revealed for A Bugs Land at Disney California Adventure - Source
18:19 Walt Disney World News:
18:25 RUMOR: Projection Mapping and Special Effects Coming to Walt Disney World Hotel Rooms - Source
20:04 Patent Shows How Disney is Preparing to Release "A Swarm of Robots" in Star Wars: Galaxy's Edge - Source
21:37 Epcot Releases 2018 Candlelight Processional Narrators, Details - Source
23:05 Expedition Everest Refurbishment Imminent to Fix the Broken Yeti at Disney's Animal Kingdom - Source
24:13 Christmas Overlay of Toy Story Land Will Be Part of Holiday Offerings at Walt Disney World in 2018, Sunset Seasons Greetings Enhancements Announced - Source
25:59 Reservations Available Now for New and Returning New Year's Eve Events at Contemporary Resort - Source
27:25 Attractions at Disney's Hollywood Studios Closed Due to Power Loss - Source
28:16 New Ziploc Kidcot Fun Stops Debut Around World Showcase at Epcot - Source
29:05 Rivers of Light Dessert Party Coming to Animal Kingdom, Reservations Open - Source
29:45 Five New Trees Coming to Disney Springs' Christmas Tree Trail in 2018 - Source
30:17 Mickey Mouse's 90th Birthday Portrait Revealed - Source
31:02 Main Topic - We Play with the Disney Play App
https://disneyparks.disney.go.com/blog/2018/06/play-disney-parks-app-debuts-at-disneyland-resort-and-walt-disney-world-resort-on-june-30/
47:58 Disney Media Pick of the Week:
Brought to you by mickey chats.com
A magical place to Chat all things Disney.
Love of the Mouse Podcast
https://loveofthemousepodcast.com/listen-now/
https://twitter.com/LOTMpodcast
48:41 Disney Trivia
Brought to you by teepublic, http://shop.disneydiscussions.com
Use Coupon code ALOHA at checkout for 30% off. from 7/24 - 7/30 at midnight.
10 Things That Went Disastrously Wrong on Disneyland's Opening Day
http://mentalfloss.com/article/541360/disneyland-disastrous-opening-day-anaheim
56:12 Question of the week:
Last week's answers to the question of the week:
In the last phase of building your own Disney park you need to pick 3 rides, a character meet and greet, a store, and 2 of anything else. What do you pick?
57:07 This week's question:
What did you wish you knew before going on a Disney Cruise?
Also,
What questions do you have about Disney Cruises?
57:24 Goodbye
58:35 Bloopers
59:01 Narnia discussion
Help Support our podcast:
WWW: http://support.disneydiscussions.com
Buy Merchandise: https://www.teepublic.com/stores/disney-discussions
Patreon: https://www.patreon.com/bePatron?u=61265
Listen to our podcast:
WWW | YouTube | Apple Podcasts | Spotify | Stitcher | Google Podcasts | Subscribe on Android
Here's all the social sites where you can follow us:
Facebook | Twitter | Instagram
For feedback please email podcast@disneydiscussions.com