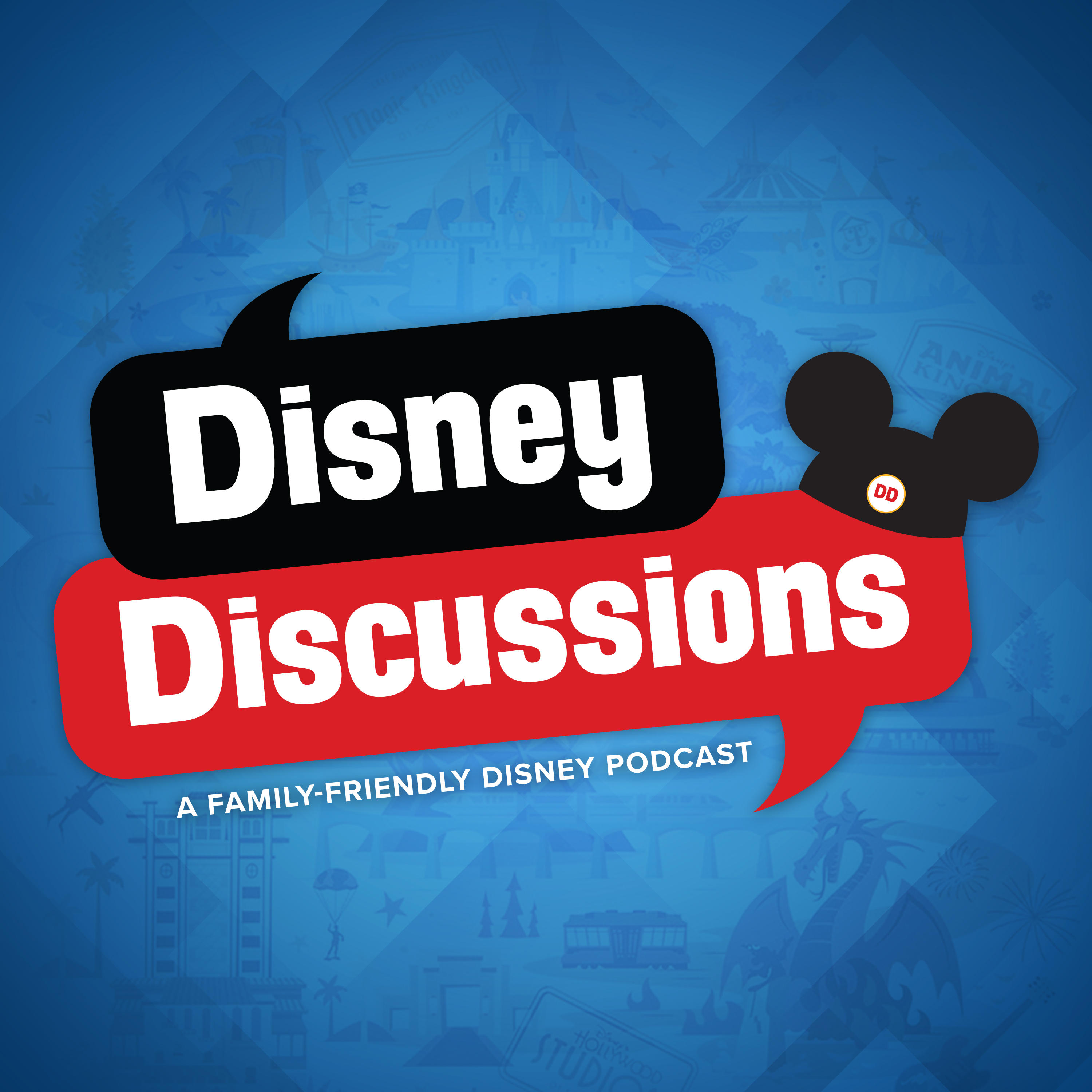 There's a lot going on in the World of Disney whether it's the parks, movies, or TV. Every episode Tony the Disney Dad and his 2 boys will walk you through all the Disney, Marvel, Star Wars, and Pixar related news as well as help you navigate your next trip to Walt Disney World, and walk you down the Disney history road. Listen with the whole family!
Episodes
Wednesday Aug 08, 2018
Wednesday Aug 08, 2018
We play Fantasyland trivia, discuss Star wars Episode 9 news, and more! on episode 32 of Disney Discussions.
Listen to our podcast:
WWW | YouTube | Apple Podcasts | Spotify | Stitcher | Google Podcasts | Subscribe on Android
00:12 Introductions - Least Favorite WDW attraction
00:46 Welcome!
03:07 News
Disney Media News:
03:18 Name Revealed for Ant-Man Attraction Opening in 2019 at Hong Kong Disneyland - Source
04:09 CONFIRMED: Star Wars Resistance will Debut on October 13 - Source
04:46 Disney's Acquisition of Fox Approved by Shareholders, Deal to be Finalized by Mid-2019 - Source
05:25 Disney is Developing a Flexible Speaker That Can Be Hidden in Themed Objects in Parks - Source
06:49 Star Wars: Episode IX Cast Announced - Source
09:20 First Look at Logo, The Rock and Emily Blunt's Characters as Production Begins on "Jungle Cruise" Movie - Source
09:50 Disney is Developing a "Moving Floor" to Enhance the Feeling of Walking in Virtual Reality  - Source
11:00 Watch the Legendary Sherman Brothers' Stage Dedication at the World Premiere of Disney's Christopher Robin - Source
11:49 'Incredibles 2' Crosses $1 Billion Worldwide - Source
12:23 Disney Tries to Reclaim Star Wars Rights from TNT, TBS for New Streaming Service - Source
13:19 PIRATES OF THE CARIBBEAN 6 Moving Forward - Source
14:20 Disneyland News
14:24 Disneyland Unveils New Space Mountain Queue, Surrendering Another Bit of History - Source
14:59 Disneyland Announces 2018 Holiday Season Offerings, World of Color – Season of Light Unlikely to Return - Source
16:32 Paint the Night and Pixar Play Parade's Run Extended at Disneyland Resort - Source
17:07 Remember… Dreams Come True Fireworks Spectacular Will Return to Disneyland September 7th - Source
18:37 Walt Disney World News:
18:44 Walt Disney World Set to Launch Minnie Van Transportation Service to Port Canaveral  -Source
19:27 Walt Disney World to Offer V.I.PASSHOLDER Nights - Source
20:22 Ability to Unlock Your Guest Room Door with Smart Phone, Digital Key, Rolled-Out to Boardwalk, Yacht, and Beach Club Resorts - Source
20:43 Randomized Sequences Return to Star Tours: The Adventures Continue at Disney's Hollywood Studios and Disneyland Park - Source
21:11 New sponsor coming to Walt Disney World's Splash Mountain - Source
22:20 Disney to Eliminate Use of Plastic Straws by Mid-2019, Other Single Use Products to Follow Suit in the Coming Years - Source
23:42 Construction Set to Begin on New Nighttime Show at Epcot to Replace IllumiNations - Source
24:39 Disney is Developing an App to Assist Guests Taking Photos in the Parks - Source
25:28 The Magic of Disney store now closed at Orlando International Airport - Source
26:27 Chicken Guy! Menu Reveals 22 Sauces and Lots of Chicken for Disney Springs - Source
28:17 First Spaceship Lands at Star Wars: Galaxy's Edge in Disney's Hollywood Studios - Source
29:32 New Festival of the Lion King Dining Packages Announced for Disney's Animal Kingdom - Source
31:01 Lightning McQueen's Giant Race Simulator from Cars 3 is Being Constructed for His New Show at Hollywood Studios - Source
31:50 Main Topic - FantasyLand Trivia
https://disneyparks.disney.go.com/blog/2018/06/play-disney-parks-app-debuts-at-disneyland-resort-and-walt-disney-world-resort-on-june-30/
46:35 Disney Media Pick of the Week:
Brought to you by mickey chats.com
A magical place to Chat all things Disney.

47:27 Disney Trivia
Brought to you by teepublic, http://shop.disneydiscussions.com
The story behind why Marvel characters are not allowed in WDW
50:30 Question of the week:
What did you wish you knew before going on a Disney Cruise?
Also, What questions do you have about Disney Cruises?
51:27 This week's question:
What's your least favorite WDW ride and why?
52:16 Goodbye
53:39 Bloopers
Help Support our podcast:
WWW: http://support.disneydiscussions.com
Buy Merchandise: https://www.teepublic.com/stores/disney-discussions
Patreon: https://www.patreon.com/bePatron?u=61265
Listen to our podcast:
WWW | YouTube | Apple Podcasts | Spotify | Stitcher | Google Podcasts | Subscribe on Android
Follow us:
Facebook | Twitter | Instagram
For feedback please email podcast@disneydiscussions.com